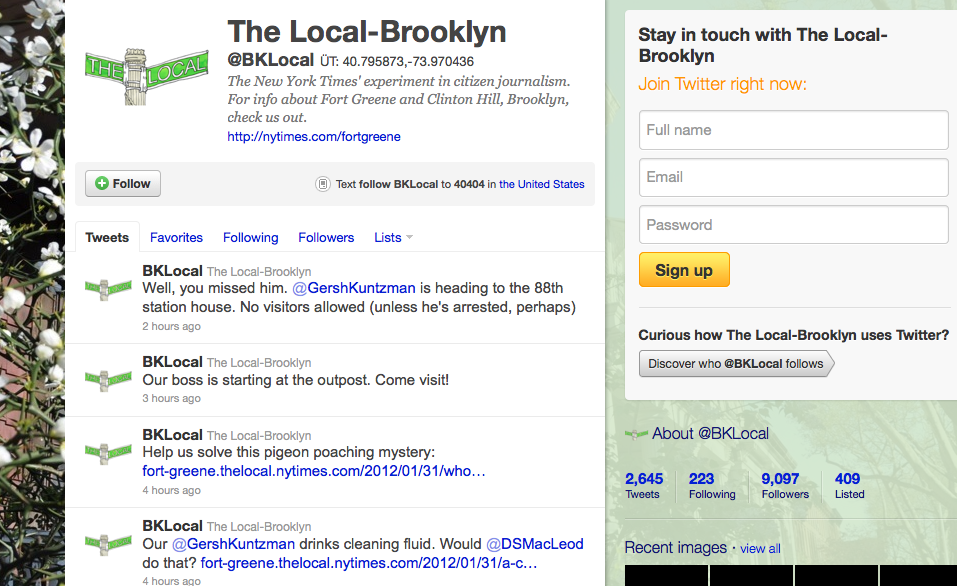 Jan

31
Tags
Related Posts
Share This
Be a Social Media Maven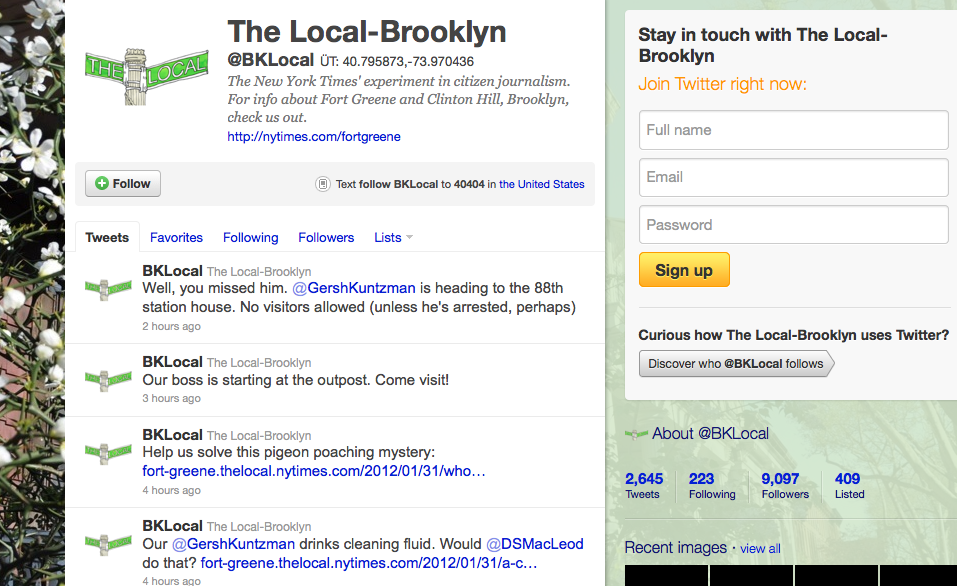 Social media is crucial to building a loyal following and is a great way to expand your readership and add voice to your blog. Though there are many different social media tools and strategies, at The Local we've focused in on the two biggest, Twitter and Facebook.
Twitter:
This is a place where we you spread content, reach out to other organizations and media outlet, and readers, and establish our voice. Don't be afraid to be funny on Twitter and to comment on our content.
First off, tweet your first post of the morning; at The Local we start with The Day, the morning link round-up. Make sure the tweet includes as many @'s at the organizations linked to in the post as possible. If there is a question in The Day (example: "what are you doing to stay cool? Tweet at us," tweet that part of the day)—asking the question in an easy way to get @ replies. If you get a reply, re-tweet it.
Schedule out tweets of the links in The Day for half-hour intervals through out the day. Be sure to @ at the relevant organizations. Link to their page directly (the link used in The Day, not The Day link).
In order to schedule, download and install TweetDeck (or another app of choice) and create an account. Then add The Local's twitter. You can also create lists in a Twitter client app, to watch, say food news, or local politicians.
Sticking to a schedule for this (11:00, 11:30, 12:30, 13:00 – TweetDeck uses military time) creates a frame that you can tweet around for re-tweets or other oddities. This way the tweets are paced.
Example. A story goes up at 12:18. You've scheduled links from The Day through 1 p.m. Don't tweet right away. Schedule the story tweet for 12:30. If there is something you would like to re-tweet, you can pace those around the half-hour format.
The schedule also helps if someone else wants to tweet or re-tweet something. Other staff members can assume there will be a tweet at the 30 minute interval and can tweet around that. Even if there isn't a scheduled tweet, this preserves the pacing of the account.
Don't be scared to re-tweet. There's a little more room to be slightly less local in the feed. Tweet Bed-Stuy or Brooklyn links. Events in the area are especially great. The format of "Tonight: event @HostOrganization" or re-tweeting their event tweet is great, easy, and generates further re-tweets of us.
The NY1 weather tweets are also a good option, but don't do more than one a day, unless there's breaking weather news. Thunderstorm coming tonight!
Facebook:
The news feed on a Facebook page is a great way to build activity. Go to Account in the upper right corner and click on "Use Facebook as Page." Select The Local and then click Home. The newsfeed will come up.
Then find something interesting, relevant, etc., and click share. Post to the page with a comment or a question. Regularly add photos to the page, or put calls for photos out for others to post to the page. Photos build engagement very effectively.
It's also great to continue to add to your page's favorites. To do this: Use FB as yourself, not as the page. (To switch back and forth go to the Account menu on the upper right corner.)
Then: go to a page, example: Greenlight Bookstore, and scroll down. Look at the menu on the left side. There's an option to Add to My Page's Favorites. If we already like that page, it will say Remove from my pages networks. Easy.
But — to write on that page's wall you need to switch back to Use FB as Page.
When sharing something from someone else, it's always great to include a link to one of our own posts if possible.
Spacing out FB posts is good, but not as essential as it is for Twitter. Spending ten minutes commenting or liking other page's posts is a good use of time. Posts on our own wall need to be spaced out. If there's two things that are awesome, wait ten minutes or more to do the second one. If you can't, you can't. But try.
Remember:
The point of all this is more traffic, more presence, more re-tweets and more likes. It's a bit like a game. It should be fun.
This post was adapted from a guide written by Celia Gorman.